How to make them look more beautiful is the girls' nature. From the foundation to the eye shadow, from the mask to the remover, every link is crucial. As for me, how to protect my skin is more important than how to make up. As a busy office worker, I need to face all kinds of pressure every day. I have to stay up all night to face computer. And during the day, the skin is exposed to the pollution in the city, which is faced with various kinds of damage from the external environment. Although I just over twenty, my skin becomes worse and worse. I noticed that skin care cannot be just moisturizing. Anti-aging and improving the skin's defensive immunity ability become more important than before. Based on my best friend's opinion, this summer I bought Helena Rubinstein Powercell. To be honest, I did not show my expect to this powercell skinmunity serum at the beginning. However, I changed my mind totally after the first time I used it. You cannot imagine how smooth my skin has become.
At the beginning, I was not used to this fragrance. It smells like synthetic because it is too strong. But after slowly accepting the taste, it felt comfortable to smell. It is a kind of light cream yellow cream essence that will sting a little when the skin is not in good condition. But your skin will adapt to it after a few days. The green body reveals mystery and elegance. At the same time, green means defense. Trees protect people from all kinds of pollution in cities, and the Helena Rubinstein Powercell protects skin, like trees. Green also means new life. Helena Rubinstein Powercell restores the regenerative vitality of cells and makes the skin return to a young state, which is also consistent with the theme of 'Youth Grafter'. Although the top dropper can precisely control the amount of each time we use(two to three drops are enough), the dropper will retain part of the essence every time. My own personal felling is a little bit wasteful. This is my only opinion about the bottle design. Of course, this does not affect me to show my love to this powercell.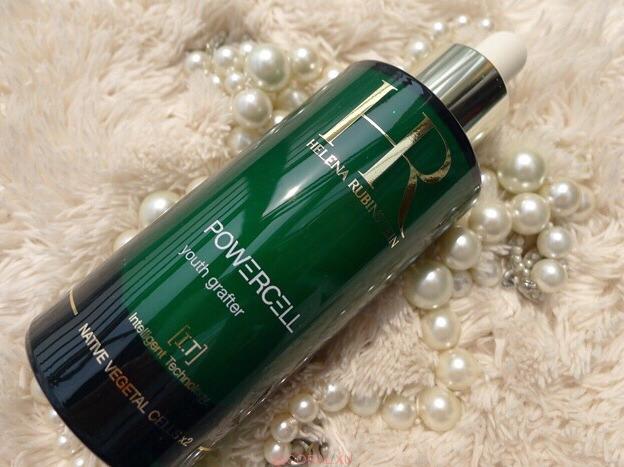 This Helena Rubinstein Powercell is very watery and light. It is like a light white emulsion when dripping on the back of the hand. This hr prodigy reversis won 6 beauty awards in Japan when it just released on the market. With the help of advanced cell biology technology our powercell skinmunity serim can help people who expect perfect skin. The hr powercell can also help ladies anti aging and stimulate the self-repair instinct of the skin, so that the skin can back to the full state.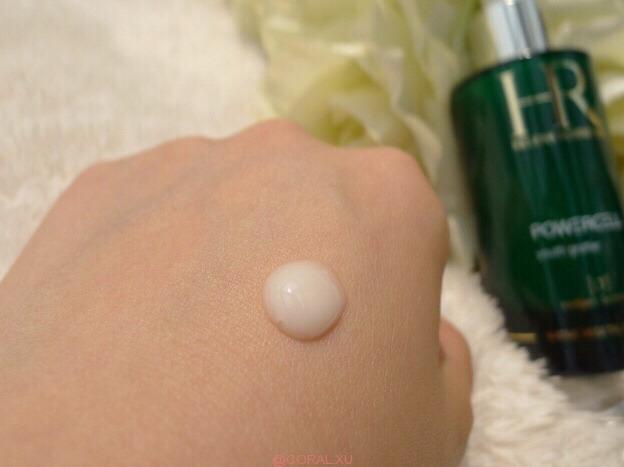 It is hard to show the anti-aging effect directly, but I can show you the increase in the moisture value. Please see the image below, 33.3% of water in my cells before I use powercell skinmunity serum and after using the figure changed into 47.2%. What an amazing experiment. Why do not you choose it?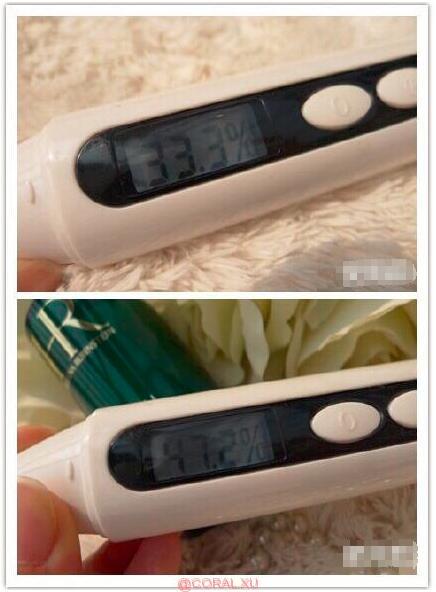 Overall, the following is my opinion of the product, including some pros and cons.
pros
1) Helena Rubinstein Prodigy has light texture, clear color and a unique fragrance. The essence is transparent after being pushed away, making people feel extremely moist. It has a very good repair effect as well.
2)This essence is perfectly for oily skin. As we all know it is hard for oily skin people to find skincare product. Because too much makeup can make skin look worse. However, if you use Helena Rubinstein Powercell you will not have this trouble. It will make you look more beautiful on the contrary.
3)If you have wrinkles, do not worry. This Helena Rubinstein Powercell will help you to anti-wrinkle. Just need a drop of essence every morning and hold on day by day, you will notice the wrinkles disappear with your eyes.
4)This powercell skinmunity serum also suits for sensitive blemish skin. You cannot imagine how useful it is. Based on my own experience, a pox burst out on my face on last Monday and I dropped a drop of hr powercell on it in the morning. In the afternoon I found that redness had gone and that pox had become smaller. This is the biggest reason why I would like to buy it again and again.
5)The Helena Rubinstein Powercell is really easy to be absorbed. It is really absorbed into the skin rather than floating on the surface of the skin which create a false smoothness.
6)The hr prodigy reversis not only can help us repair cells but also have ability to antioxidant during the day. For example, if you use the essence before you go to work in the morning, you will find that your skin just appears darker in the evening. You will never find acne or comedones on your face because our essence have helped you keep out the outer pollutants from entering your cells.
cons
1)The first problem in my mind is the dropper. The design of the dropper is not convenient so the essence will be difficult to squeeze out.
2)Somebody, of course including me do not satisfied with its odor. It smells like synthetic because it is too strong. Of course, if you like strong fragrance, this is not a problem at all!
3) The Helena Rubinstein Powercell does not suit for dry skin people.
OBJECTIVE DESCRIPTION
About the skin type
The hr prodigy reversis is suitable for oily skin. As for natural skin, you'd better try first before you buy it.
about the price
It usually costs €144. Of course, I bought this product at a discount. Welcome everyone to pay attention to my blog. I will share some deal to help you buy this product at a lower price.
about the size
The powercell skinmunity serum full size comes in 30ml, 50 ml and 75 ml.
about the age
This kind of Helena Rubinstein Powercell is suitable for ladies who are beyond twenty-five years old. With the development of economics and technology, The environmental pollution is becoming more and more serious. Pollutants in the air are also increasingly damaging to the skin. Fifty years ago only women who have over thirty years old began to use skincare products. But now, if you purchase perfect skin state, Please do not hesitate any more.
about the ingredient
Taken from two power plants — sea fennel and milk thistle — these plant stem cells help your skin behave like younger skin. It is deeply regenerated and protected from free radicals.
It contains anisole, a-anisone, methyl pepper phenol, anisaldehyde, VC and other ingredients, which can inhibit the activity of tyrosinase and thus achieve the whitening effect.
Product introduction
With cutting-edge cell biology technology, skin care products find energy from the source of cells instead of repairing the traditional functions of old cells. The patent extracts the active plant native cells of "ocean pansy". This 100% active energy instantly stimulates the skin's self-repairing instinct, actively establishes free radical defense and promotes cell regeneration. The skin returns to its full state, repairs the aging trace. The skin quality is meticulous smooth. The contour is tight and the skin restores the youthful spirit. This extract uses the patented extraction and reduction technology of Marine cordiophytes. Five days after using this essence, your skin will show the state of young skin: rebuild strong and tough structure – reproduce skin ruddy – reshape young texture. It mainly acts on three anti-aging mechanisms: cell regeneration, repair and reconstruction of tissues, and fight against free radicals.
APPLICATIONS TIPS
Apply 3 drops over the entire face with firm smoothing movement on the facial contours.
Use the palm of the hands and work from the chin to the top of the temples.
If you have any questions about this Helena Rubinstein Powercell, please leave a message below. If I know, I will answer for you.
Thanks for the visit guys!