To Tom Ford, there is no more dramatic accessory than a perfect lip. It is the focus of the face and it has the power to define a woman's whole look. Each lip color is Tom Ford's modern ideal of an essential makeup shade. Rare and exotic ingredients, including soja seed extract, Brazilian murumuru butter and chamomilla flower oil, create an ultra-creamy texture with an incredibly smooth application. Specially treated pigments are blended to deliver pure color with just the right balance of luminosity.
This luxury treat comes in a solid golden and black metallic packaging with TF embossed in golden. It's a really heavy and unique, eye catching case. I can keep on staring at its solid heavy case for hours. It has a slight vanilla scent which is way too mild. I often fear staining its cult metallic case, namely, a complete travel-friendly and classy packaging.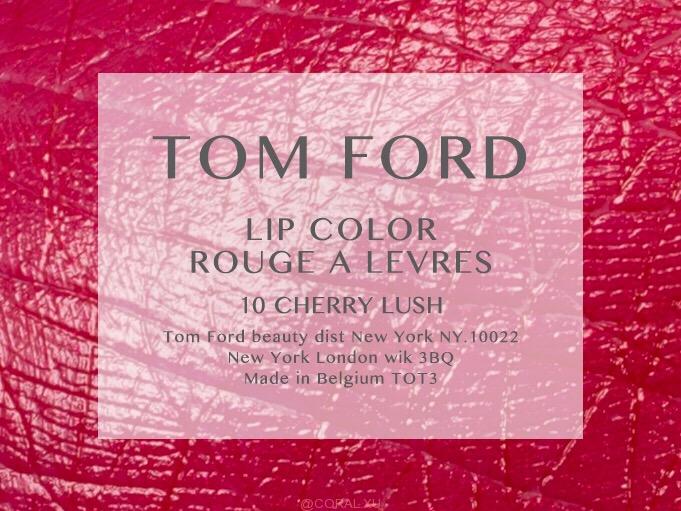 First of all, my hearty thanks to IMBB for this amazing gift, I ultimately owe my extreme happiness and this lavish treat to IMBB. When I decided to go for Tom Ford, I was really confused as they have nearly 20-30 lipsticks with 2-3 shades each of red, wines, pink and neutrals. I was also thinking of an orange red shade initially, but the moment I swatched "Cherry Lush," I had to get it.
Tom Ford Cherry Lush Lipstick is a true blue-based vibrant red shade with hints of pink. It looks absolutely stunning on fair/medium skin tones as per my observation and experience. It has fine red shimmer which is way too mild and hardly shows up unless I swipe it more than twice. This is perfect for wedding and night outs. I know this is not the first time I got a blue-based red, but still it's unique in its own way! It gives me a fresh and subtle look unlike bold reds, which is perfect for any scorching day or night out, irrespective of the occasion or season.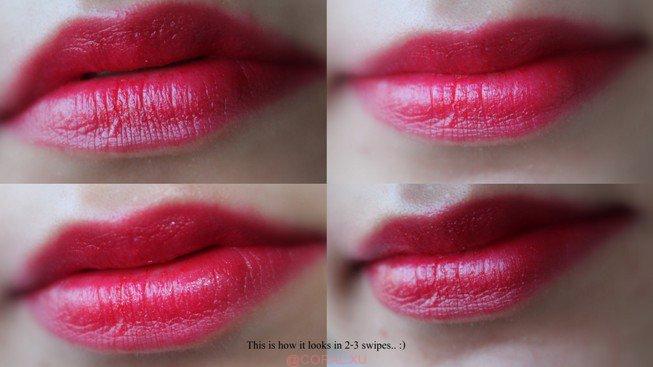 Talking about its texture, I feel it's really a unique kind of gel-based lip color, neither it's creamy totally nor I would call it completely glossy. It just glides on like second skin on my lips and I cannot figure out for a while if I am wearing such a deeper shade on my lips. I have tried many cream lipsticks and glossy finish lipsticks, but this Tom Ford Cherry Lush Lipstick cannot be compared to any of them. It's slightly different from Guerlain Rouge Automatique Lipstick, which is intensely hydrating and moisturizing when compared to this Tom Ford lipstick.
However, I personally feel this Tom Ford lip color in cherry lush is not very hydrating on lips and I often feel the need of a lip balm beneath this lipstick which naturally decreases its lasting power and tends to bleed. When I say, it's not hydrating, it does not mean that it will dry out lips or accentuate chapped lips, but the gals who love creamy finish lipsticks (like me) will definitely feel like licking their lips very often while wearing it. You know what I mean? Surprisingly, I never felt any dryness or stretchy skin even after removing it off my lips. It just feels like a semi-matte lipstick though it is way different from any typical matte/semi matte drugstore lipstick I have tried so far!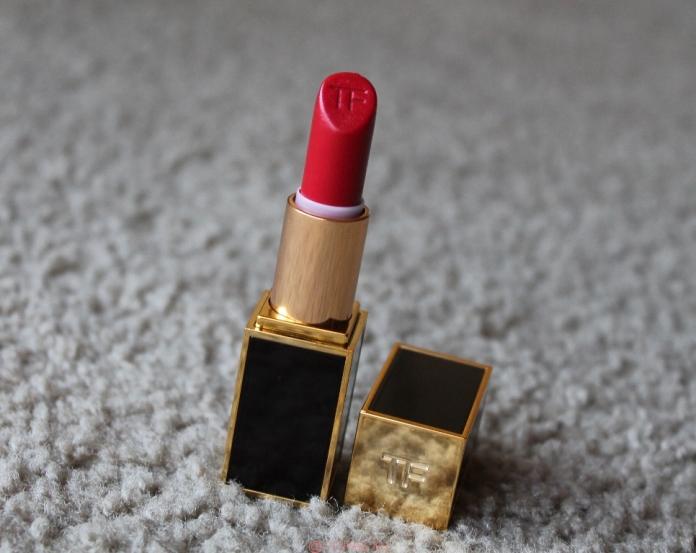 My next concern is that it sometimes bleeds from the center of my lips which may be because of the lip balm. I think wearing a lip liner would help though! It has a great staying power of 8-10 hours without heavy meals after which it fades into a subtle pinkish red sheen which looks ultimately fine. I believe it needs touch ups after heavy meals as it often fades from the middle first. Anyway, my lips look healthy and soft even when it is not as hydrating as Guerlain Rouge Automatique and even when I rinse it off completely. It does leave a stain, but that's easily removable and does not bother me. Overall, I would definitely recommend this particular shade to every fair/medium skin tone gal and in general I would recommend this lipstick to every gal, who loves to try a variety of lipsticks other than the typical creamy, matte lip stuff. I believe we all have bad lips, hair days. I do have a bad day when this lip color bleeds, basically during humid and hot day, not always. It's not a major con or deciding factor, matching lip liner or avoiding lip balm beneath this shade would fix the problem!